••• FIND A RENTAL
••• EXTRA
••• LIST YOUR HOME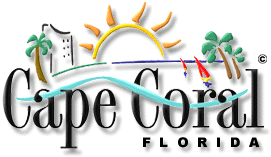 imagine...soon you'll be in Paradise !
---
Cape Coral is one of the nation's fastest growing and most desirable cities. With over 400 miles of fresh and saltwater canals, it is a boater's dream-come-true. Many people keep their boat docked behind their home with the Gulf of Mexico just minutes away. Cape Coral consistently ranks among the fastest growing Metropolitan Statistical Areas (MSA's) in the nation, and is growing nearly twice as fast as the state of Florida as a whole. Just minutes from pristine beaches and Gulf waters, Cape Coral really does have something for everyone!

Just 39 years young, Cape Coral is growing like a healthy adolescent. In 1957, the enterprising Rosen brothers purchased 7,000 swampy acres and transformed them into a livable place. Cape Coral was born! The city has grown up fast; now 85,000 year-round residents enjoy the moderate climate along the Southwest Florida Gulf Coast. The world's largest reverse-osmosis plant keeps Cape Corallites flush in potable water. That way they can enjoy picnics, swimming and other leisure activities in their well-developed city park system. The Caloosahatchee River runs through town. So does a 400 mile network of fresh and saltwater canals, which can complicate driving for newcomers. A prominent landmark is the Cape Coral Bridge, connecting the city to Fort Myers -- 15.9 million vehicles crossed over in 1994 alone.

Area flora and fauna includes "walking" mangrove trees, burrowing owls and the great manatee. Take care around those endangered walrus-like creatures, though, because "even luring one with lettuce can bring fines up to $20,000 and a year as a guest of the state."
You may look forward to your holidays in Florida and already start relaxing when packing your suitcase as you will need not more than a pair of shorts, tennis shoes, some T-shirts and of course your bathing shorts. Don't forget a big sun cap, your sun glasses and especially sun cream with protection factor 25. You are traveling to the "Sunshine State" and the nickname really fulfills all expectations. Florida lies on the same latitude as the big deserts in this world, the Sahara or the desert Gobi for example, but in contrary to those it presents a green excessive vegetation.

Although being one of the quickest growing cities in the USA, Cape Coral has not lost the atmosphere of a small town and its nice flair.
Its criminal rate is the lowest compared to other cities in Cape Coral's size which contributes enormously to the quality of living.

About Cape Coral Beach

There are many beaches in the state of Florida for people to enjoy, two of which can be found in the City of Cape Coral. The main beach is located within the

Yacht Club Community Park

on the southeast corner of Cape Coral at the end of Driftwood Pkwy. In addition to the Yacht Club public beach, visitors to the Yacht Club Community Park can enjoy a covered playground with equipment for children ages 2-12 that can accommodate persons with disabilities, as well as picnic tables and BBQ grills, the adjacent Yacht Club Pier, a public boat ramp and free vehicle parking (their is a small fee for boat trailers).

Cape Coral's newest beach is located at

Four Freedoms Park

on the banks of Bimini Basin just south of Cape Coral Pkwy. Visitors to four Freedoms Park can enjoy fenced in playground equipment for children ages 2-12, picnic tables and BBQ grills. Alcohol is not permitted in either of the parks and animals are not allowed on the beach. Both the Yacht Club public beach and Four Freedoms beach are open from dawn to dusk daily; however, there are no lifeguards on duty. Those who wish to go in the water should understand that they are both non-swimming beaches so going in the water is at their own risk.

For people who wish to swim, the

Yacht Club Community Pool

is located just a few feet from the Yacht club beach and features a heated Olympic Size pool and a kiddy pool with interactive Dewdrop fountain and underwater bubblers. A daily fee is required to use the Yacht Club Pool, but fully trained lifeguards are on duty at the pool during all operating hours.

Cape Coral – Things To Do

Cape Coral is, without a doubt, one of the best vacation destinations within the USA. Not only is it situated within the ever-sunny and always congenial Gulf of Mexico, it has such a wide range of things to do that nobody could ever be short of entertainment. If you're thinking of taking one of our vacation rentals in Cape Coral, but are unsure of how you'll occupy your time here, then here is a quick guide to some of what's on offer here.

For The Kids

Cape Coral is a wonderful place to be a child! From splashing in the sea to ball games, from exciting watersports to exploration of child-friendly museums and attractions, Cape Coral has something to offer for every child. There are plenty of things the whole family can enjoy, such as Mike Greenwell's Bat-A-Ball Family Fun Park, where families can enjoy miniature golf, arcade games, batting cages, and even go-karting. If you don't mind getting wet, the Sunsplash Family Water Park never fails to get rave reviews. Alternatively, there are plenty of boat charters and tours which are well geared towards making the experience an enjoyable one for children. And, of course, in the unlikely event that your kids get bored (and you're up to the challenge!), Disney World is only a three hour drive away…

Amenities

Cape Coral is a thoroughly modern city with a timeless appeal. Here, vacationers can enjoy the friendly, relaxed atmosphere of an old-world city with all of the modern conveniences you'd expect from a contemporary metropolis. The area is well accustomed to tourists, so you need have no worries about finding information, directions, good money exchange deals (if you're vacationing from abroad) and friendly people who understand and appreciate the needs of a tourist. When it comes to dining, Cape Coral offers an unparalleled range of eateries and dining experiences, from quick and easy snacking cafes to full scale cordon bleu cuisine. Foods from all over the world have found their way here, so nobody is likely to be disappointed when it comes to dining choices! If you wish for a relaxed afternoon, Cape Coral is amply equipped with cinemas, day spas and the like, ensuring that you can keep yourself feeling pampered and entertained, and the range of shops means that you're unlikely to run out of any essentials!

History

History buffs will find plenty to please them in Cape Coral. The Southwest Florida Military Museum And Library is located here, and it's stuffed full of military artifacts from the Civil War to the Mexican-American War to the World Wars, and plenty more besides. The displays are well set out and the staff incredibly knowledgeable, meaning that it's easy enough to navigate and understand the place – but it's recommended nonetheless that you set aside a good few hours for this museum! There is an awful lot to see! Alternatively, there is the Cape Coral Historical Museum, which is a free (although donations are encouraged) self-guided museum which takes visitors through the early history of Cape Coral, its conception, its development, and what life was like here before the city was built.

Beauty

The Gulf of Mexico needs no introduction – it has long been acknowledged to be one of the most beautiful places in the world.

Incredible beaches, glorious sunsets over the sea

, white sands, turquoise waters…it's paradise on earth. Going for a stroll along the beach at the end of the day while the sunset turns the sea golden and red is a simple yet breath-taking way to spend some time, and taking a boat out onto the waters in order to view the land from the sea gives an incredible sense of the stunning beauty of the area. The southwest of Florida is also known for attracting a thrilling variety of wildlife. Sea turtles flock to nearby beaches. If you're prepared to do a little travelling, you can also see calm, friendly manatees in the wild in Florida's rivers. Closer to Cape Coral is the Four Mile Cove Ecological Preserve, within which visitors can wander through mangroves and gaze out over the beautiful Colossahatchee River. A thoroughly pleasant way to spend an afternoon, and the preserve does its best to educate and inform visitors about the area.

This is an article sent in by Sally Ball










Vacationhit LLC is registered with the State of Florida as a Seller of Travel, Registration No TI55276